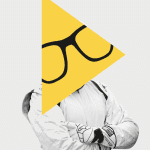 Some say that our Secret Geek is half Canadian, was once kidnapped by Norwegians in Paris and snogged a Hollywood actress. All we know, is that he is our constantly creative, content Geek. If in passing you have noticed the Sales Geek brand or liked, shared or commented on our social media then that's our Secret Geek sauce working its magic.
Geek Value: Make things fun.
Do you remember the guy who filled you with dread at the 84 Olympics. The one who made your heart sink just a bit every time his name was mentioned? I remember him. His name strikes fear in my heart even now. The only one who could stop Daley's relentless march to Gold: Jürgen Hingsen.
It didn't matter that Daley was undefeated in the Decathlon for 9 years between 1979 & 1987, the 6ft 7″ world record holder, Jurgen (the only man with a moustache more impressive than Daley's), was always looming in the shadows – ready to strike. He was bound to smash Daley in the throwing events and launch a discus so far he would get enough points to win a Decathlon on its own. He was always bound to be ahead of Daley in the final 1500m event and would somehow manage to lap Daley to claim victory. He was always there, always stalking… always Jurgen Hingsmen.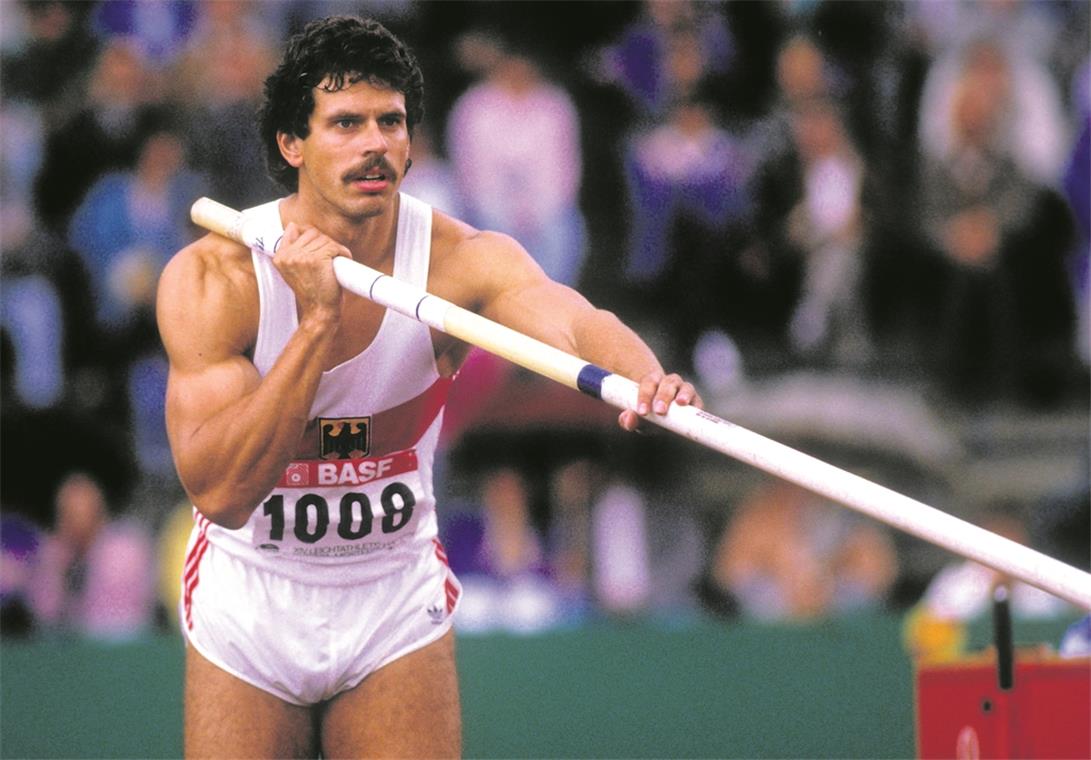 The perceived wisdom is that Daley Thompson was hard to love. The press certainly hated him and still go after him to this day. To them he is charmless, rude, arrogant and worse a 'scrooge'. They've labelled him a mean, serial shagger from the moment he whistled the national anthem on the podium. They hated it that Daley simultaneously attracted and shunned fame. I think mostly he was just hard to get to know and the press were never able to unwrap the enigma. He was monosyllabic and cutting in his responses to the press and they have never forgiven that. Those that came into close contact with Daley often seemed to get some of that same attitude. On the one hand he was slightly odd, prickly and stand-offish, on the other he had a winsome "cheeky chappie" persona that certainly helped win him many fans in the early 80s. 
There were a few (if we are being polite) 'miscalculations. The T-shirt he wore after winning gold in 1984 bore the slogan "IS THE WORLD'S SECOND GREATEST ATHLETE GAY?" a perceived cruel dig at Carl Lewis. But it is still slightly weird how the public have not taken to Daley like they have other GB Olympic superstars. Maybe the years and years of bad press have taken their toll
But none of that mattered to me as a 9 year old kid who sat down to watch history unfold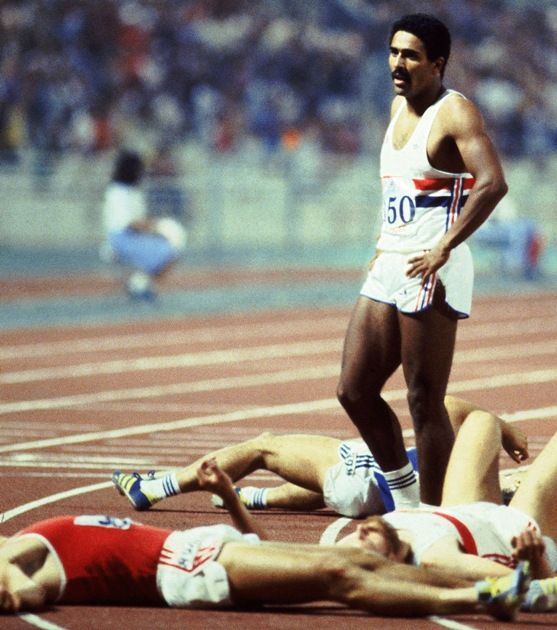 I don't remember much I was only 5 years old. But somehow this Olympics left two indelible images in my head. Everything was about Coe vs Ovett. I was definitely an Ovett man then and I also remember endless sprint races in the school yard everyone of us pretending to be Alan Wells in those skimpy white PE shorts. The news was filled with USA's boycott of the games and there was Goodhews bald head bobbing out the pool following breaststroke glory.
Coe & Ovett's Battle of Moscow
Well, well, Wells
Kerly Fries the Germans 1988
I can't remember much else from the LA opening ceremony but surely everyone remembers the rocketman? Iconic.
Seb Coe repeated his 1500m win. He shouldn't even have been there – Peter Elliott had beaten him in Olympic qualifying but Coe still got the nod. Steve Cram  was the favourite going into the final. And the winner of the 800m, Joaquim Cruz, withdrew because of a cold. Somehow Seb always found a way.
There was Tessa Sanderson's golden arm beating Fatima Whitbread into 3rd place whilst Daley Thompson whistled atop his podium. Mary Lou Retton captured my heart. But the thing I remember most is Ian Taylor saving a penalty shot for GB Men's hockey team to help them win a bronze medal. Little did we know they'd be two steps higher on the platform 4 years later. 
Going into the 1984 Olympics Jurgen had overcome Daley's Decathlon record and upped the ante by another 50 points. The record now stood at 8825. In addition to Hingsman there were 2 other Germans that were World class in this field – Siegfried Wentz and Guido Kratschmer they would go on to finish 3rd and 4th respectively. It was Daley versus Germany (and we know how much GB loves that narrative.) In reality though there were only two men in the field that could win as non of the other competitors had the capacity to win multiple events.
Daley however certainly could. He was a first day phenom often mounting almost unassailable leads via the first day events of 100m, Long Jump, Shot Putt, High Jump and 400m.
1984 was no exception. Daley was always going to win the 100m lead off event, he was a world class sprinter who would form a vital part of GB's 4x100m relay team that would medal at the 1986 European Games and Commonwealth Games.
It was just a question of "by how much?" He was 3/10ths of a second ahead of his nearest competitor and nearly half a second quicker that Hingsman.
Daley would then jump 21cm further than the German in the Long jump. As an indication of how much better he was than the rest of the field, his leap was nearly half a metre further than the 3rd best jump.
Finishing 3rd in the Shot Putt, Daley then had a slightly disappointing High Jump but then finished the day with a rampaging first place in the 400m, 6/10ths of a second ahead of anyone else, to leave him sitting pretty atop the Olympic Decathlon leaderboard.
Day two loomed – Jurgen Hingsman, loomed, like he always did.
But Thompson was never headed at any stage, his progress, serene aided by a sensational Pole Vault of 5m followed by that iconic back-flip.
There was disappointment.
Daley had set such a blistering pace that the world-record was easily within his grasp going into the final event, 1500m. He needed a time of 4:34.8m to take Jurgen's crown. Down the final straight and Daley was on track, but he slowed to saviour the Olympic moment and take in the crowds adoration, finally recording a time of 4:35.00 dead, 14 seconds off his PB and an agonising 1 point off the world record*
Later that evening atop the podium, God Save the Queen blaring out, the Union flag being raised, Daley seemingly without a care in the world, whistled along.
It was yet another iconic moment created by this brilliant athlete. It was also, right there on top of the world, that the media started hacking him down. I remember my Nana being weirdly incensed by his insouciance, certainly the Daily Mail brigade were.
Whatever, his flaws and there seem to be quite a few (who doesn't have them – I'm not sue my flaws would bare Red Top scrutiny), Daley Thompson is one of the greatest olympic athletes this nation has ever produced. 
On review the IAAF knocked an extra thousandth of a second off his 110m hurdles time meaning he had equalled the record and then further recalculation moved his score to 8,847 points – a world record that stood for 8 years until 1992.
If you enjoyed this article you might enjoy: