OUR DAILY OLYMPIC MOMENT: 4
Faster, Stronger and HIGH...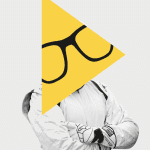 Some say that our Secret Geek is half Canadian, was once kidnapped by Norwegians in Paris and snogged a Hollywood actress. All we know, is that he is our constantly creative, content Geek. If in passing you have noticed the Sales Geek brand or liked, shared or commented on our social media then that's our Secret Geek sauce working its magic. 
Geek Value: Make things fun.
4. Ben Johnson Sprints into Olympic Infamy
Ben Johnson, burst out his blocks and the race was over, inside the first 0.15 seconds. The rest of the field appeared mere bystanders as Johnson tore up the track. This was the most stacked Olympic final in memory. Carl Lewis, Olympic champion from 4 years previous, Calvin Smith former World Record holder* having broken Jim Hines 15 year 100m record in 1983, and future Olympic gold winner Linford Christie lined up side by side. Both Christie and Smith would have their moment in the sun but this boiled down to a clash between Lewis and Johnson. And they hated each other's guts.
Both sprinters had broken Calvin Smith's world record in the lead up to the games only to have the records rescinded for various reasons years later. In fact they both broke the record on the same night in Rome 1987, Johnson leading Lewis across the line by a tenth of a second in 9.83s to become champion of the world.
Johnson and Lewis had been racing each other for years and Johnson couldn't get near Lewis, he was just a scrawny kid, battling for places. Johnson finished behind Alan Wells in the 1982 Commonwealth Games in Brisbane but went out in the semi finals of the World Championships the following year in Helsinki. By 1984 he was on the up, coming in 3rd behind Lewis in the Olympic final. But he still hadn't beaten him. Then after 8 consecutive losses, Johnson finally broke through in 1985 and never looked back (or should that be, he was always looking back, at the trail of competitors in his wake). Records tumbled, culminating in his world record 9.83s in Rome. Johnson was top dog, instantly famous and favourite for the Olympics the following year. That did not sit well with serial winner, notoriously irascible, Carl Lewis.
Following his defeat to Johnson in Rome, Lewis began a rant listing seemingly random reasons why Johnson had finished ahead of him. Johnson had 'false started" and Lewis had a "stomach ache" that affected his performance. But Lewis finally found a 'reason' that had traction:
"There are a lot of people coming out of nowhere. I don't think they are doing it without drugs."
This became a mantra that he repeated over the following year as he continually called on governing bodies to clean up the sport from performance enhancing drugs. At the time most people were cynical, after all the spectre of performance enhancing drugs had hung over the sport for years without Lewis ever speaking out. Now following high profile losses he was suddenly banging the drum louder than anyone. The truth was that Lewis was seen by many in the sport as arrogant and egotistical and it was only when Lewis was quoted in a BBC interview that: "There are gold medallists at this meet who are on drugs, that [100 metres] race will be looked at for many years, for more reasons than one." that Johnson responded;
"When Carl Lewis was winning everything, I never said a word against him. And when the next guy comes along and beats me, I won't complain about that either."
Lewis seemingly had the last word though. After finally beating Johnson, into 3rd no less in Zurich immediately prior to the Olympics, Lewis proclaimed with his usually hubris:
"The gold medal for the (Olympic) 100 meters is mine, I will never again lose to Johnson."
This was the backdrop to the race. The die had already been cast.
Whilst the Johnson drug scandal overshadowed everything else in Seoul there are a few other memories I still cling to. This was also the year for the men's Hockey Gold (see link below) and for Adrian Moorehouse in the breaststroke. Steve Redgrave rose to prominence as a 'double gold' winning rower.
Kerly Fries The Germans
But this was the year I remember for our GB 'Oh so nears', there were epic silvers for Linford Christie, Peter Elliott, Colin Jackson, Fatima Whitbread, Liz McColgan and our amazing 4x100m relay team.
But 2 moments stand out most in my memory. Flo Jo, Florence Griffith Joyner, tearing up the track with those nails. And the great Greg Louganis banging his head on the board on his way to double golds.
And so to the race. Johnson lead from the beginning and won by a margin that we would not see for another 24 years when Usain Bolt won in London.
There's not much to say about how the race unfolded, but how it ended was epic. When the dust settled FOUR men had run under 10 seconds. Fuelled by a fast track (amongst other things!!!!), the finest, fastest athletes in the world had sprinted into infamy.
Johnson crossed the line, arm aloft. He later joked that he would have run even faster if he hadn't raised his arm. 3 days later the point was moot. Following a post race urine sample Johnson was found to have traces of stanozolol, an an anabolic steroid in his system and he was disqualified, his Gold medal and world record going instead to his rival, Carl Lewis.
After initially denying doping, in 1989, following an inquiry, Johnson and his coach Charlie Francis admitted he had been using steroids since 1981 and mounted a defence, of sorts. He freely admitted that he took steroids including on the lead up to the World Championships in Rome, but consistently claimed that 'Everyone was doing it' and he only succumbed to it himself to keep up with the others. In fact Coach Francis maintained that Johnson couldn't have tested positive for stanozolol because he was actually using furazabol and like every other athlete knew exactly when to stop consumption prior to a race to prevent a positive test. His reasoning for the test results was that it was planted in the post race beers Johnson was consuming so he could give the urine sample.
*There is a complicated history to the 100m record around this time. Johnson was the World record holder going into the Seoul Olympics with a time of 9.83s. set in 1987 in Rome on the same night Carl Lewis recorded the joint 2nd fastest time ever of 9.93s. Following the scandal in Seoul Johnson admitted that he'd been doping since 1981 and thus his all his World records were rescinded by the IAAF. Carl Lewis' record on that night in Rome was never ratified as he had run a faster time of 9.92s to win Gold (once Johnson was disqualified) in the Seoul Olympic final. That time was ratified as the record in 1990 and stood until Leroy Burrell broke it by .02 seconds 18 months later. Carl Lewis would regain the title 2 months later becoming the first man ever to legitimately run under 9.9 seconds
Considering how huge a story this was and the gravity of his 'crime' Johnson still managed to make a return to the track and even found himself in the Barcelona Olympics just four years later, although he finished last in his semi-final after stumbling at the start.
Following on was a sad but predictable demise for Johnson including a brief stint as Maradona's trainer (read into that what you will)
Meanwhile Lewis continued on his storied career and was still winning Olympic Golds at aged 35 with the Long Jump in Atlanta in 1996 the last of his record breaking total of nine
It took decades before the stench of steroid use in men's sprinting to fade.
This is just the first of 17 Olympic moments that I will be recalling every day of the Tokyo games. I hope you enjoy it.

If you enjoyed this article you might enjoy: