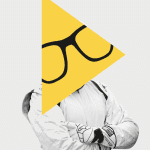 Some say that our Secret Geek is half Canadian, was once kidnapped by Norwegians in Paris and snogged a Hollywood actress. All we know, is that he is our constantly creative, content Geek. If in passing you have noticed the Sales Geek brand or liked, shared or commented on our social media then that's our Secret Geek sauce working its magic.
Geek Value: Make things fun.
Mary Decker falling spread-eagled to the ground and sobbing as she's carried from the track is one of the enduring images of the 1984 LA Summer Olympic Games or any games for that matter. It was also the moment that months and months of newspaper hyped expectations heaped on a 17 year old South African girl, came crashing down too. It was never the most edifying spectacle or one that upheld the Olympic spirit, whatever that is anymore but it was certainly dramatic.
But before we get into it all let's talk about the one thing that seems to get overlooked when talking about the incident – Zola Budd, the athlete. There was a reason Great Britain was desperate to get her to compete as a British athlete at the 1984 Olympics. She was quick, world class quick. As a 17 year old she broke the women's 3000m World Record, barefoot! But it wasn't ratified by the International Amateur Athletics Federation (IAAF) as such because the race took place in South Africa, who were excluded from all sporting competition at the time because of their apartheid regime. But the world took notice (more of that later). She broke the record officially in 1985 as a British athlete, knocking over 13 seconds off her original effort. She set the world record for the 2000m, also in 1984 as a Brit. She later went on to break the UK and Commonwealth records for the 1500m, the mile and the 5000m in 14:48.07 – also a new World record. The kid was quick, seriously, generationally so, even though she ran predominantly barefoot (Imagine the shoe deals she must have missed out on!!)
But she was a kid. It was easy to forget that as we all passed judgment on her.
The daily mail turns blind eye to apartheid, shocker...
It should come as no surprise to anyone that the whole Zola Budd circus was dreamt up and propagated by the Daily Mail. No surprise that the Mail had no qualms in overlooking a brutal Apartheid regime in South Africa because it sniffed the chance of a British Olympic medal and the reflected glory that would undoubtedly bring.
Of course the anti-apartheid movement was rightly scandalised when the Mail pulled in countless favours and pressured the government into fast-tracking British citizenship for Budd. A process that one could expect to take years was wrapped up in little more than 3 weeks.
Of course there were protests and campaigns against the move. 
Of course everyone forgot that there was a 17 year old kid in the middle of it all.
How many 17 year olds, especially those in isolated communities have a mature well reasoned geopolitical outlook? Zola had never even heard the name, Nelson Mandela! How many would stand-up to an overbearing Father who pocketed most of the £100K fee the Mail offered for her story and say "I'm home sick, I don't want this?" There wasn't much consideration of the "person" at the centre of all this and that's the most shameful part of the whole episode.*
So to Los Angeles.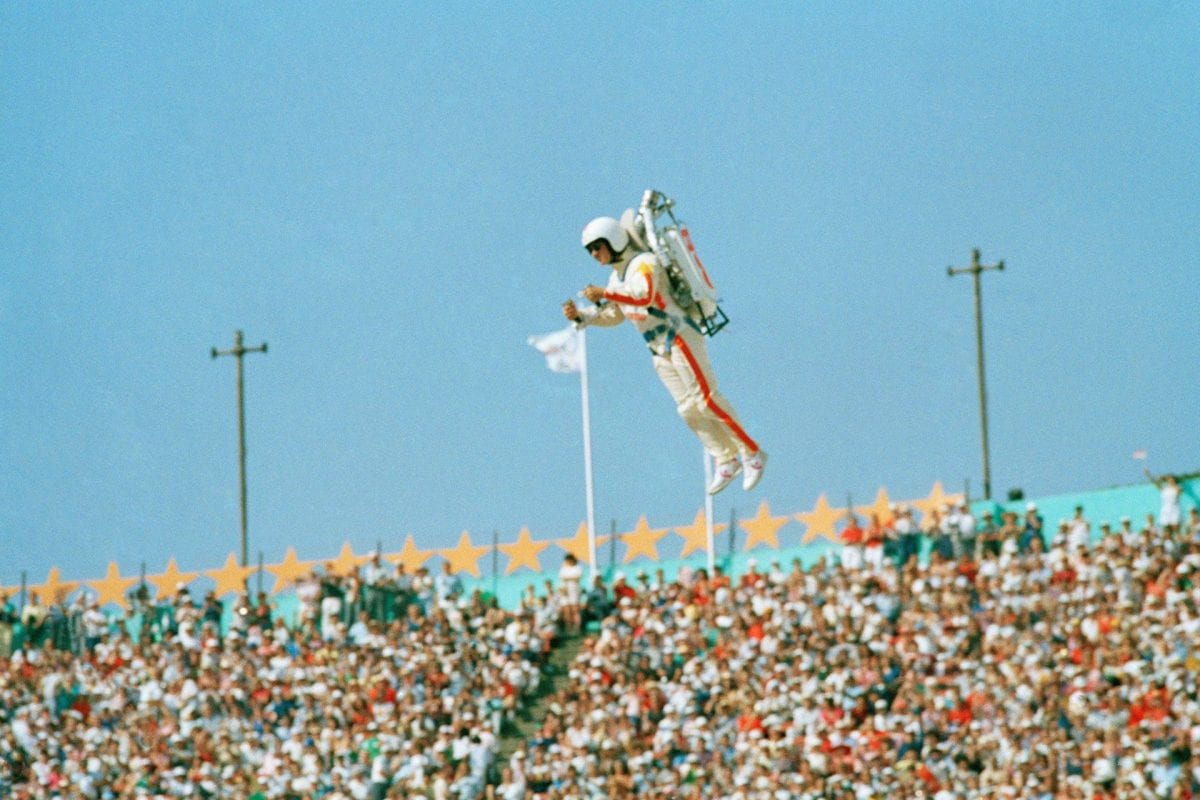 I can't remember much else from the opening ceremony but surely everyone remembers the rocketman? Iconic.
Seb Coe repeated his 1500m win. He shouldn't even have been there – Peter Elliott had beaten him in Olympic qualifying but Coe still got the nod. Steve Cram  was the favourite going into the final. And the winner of the 800m, Joaquim Cruz, withdrew because of a cold. Somehow Seb always found a way.
Coe & Ovett's Battle of Moscow
Thompson's Twin Wins
Kerly Fries the Germans
There was Tessa Sanderson's golden arm beating Fatima Whitbread into 3rd place whilst Daley Thompson whistled atop his podium. Mary Lou Retton captured my heart. But the thing I remember most is Ian Taylor saving a penalty shot for GB Men's hockey team to help them win a bronze medal. Little did we know they'd be two steps higher on the platform 4 years later. 
WHAT THE HELL AM I DOING, RUNNING IN LA?
Mary Decker was 26 in 1984, I was 9 and although I hold glimpses of the 1980 Moscow games, it's only really the sprint races I lost in the playground, pretending to be Alan Wells, that endure in my memory. You can read all about Alan Wells in Moscow here. So it was 1984 that really captured my heart and made sure I was hooked and tuned in every day to all subsequent Olympic Games. To my 9 year old eyes LA almost seemed an alien environment. Everything was bigger and brighter. The fierce, unrelenting sunshine almost burned my retinas through the TV screen. I remember when I was young thinking that Wimbledon was held in America because it was always so sunny – Sunshine, in my head was synonymous with the USA – a million miles away – and LA was flooded with it. 
The women's 3000m final was no different. It was hot day here as well as in LA, I remember it took place on my sister's birthday but I'm unsure whether I watched it on the day or via replay. Budd had made her way to the final serenely, but I couldn't help thinking how tiny she was compared to the other athletes. Check the footage, she looks every inch the child she was, competing with fully grown, serious, athletes. Mary Decker [26] who soon after married British discus thrower Richard Slaney, was the World Champion and favourite for Gold. The whole media driven narrative of this event had centered on a rivalry between Budd and Decker, but they'd never raced each other before. But this was it. This was what everyone was waiting for. Rarely had long distance running been this exciting.
Watching the race again, what strikes me initially, is that there had already been a devastating collision with an American athlete at the back of the pack and that is totally lost to posterity now.
The race unfolded normally as Budd, barefoot, moved into the lead. 1700m in there is a collision as Decker catches Budd's trailing leg, then seconds later, almost five minutes exactly into the race, Budd's trailing leg catches Decker's thigh and she tumbles off the track to the infield. She wouldn't get back up.
Zola continued, pushing a leading group that included her now GB compatriot, but in reality, a complete stranger, Wendy Sly, toward the finish. She was in pain, her heal bleeding and completely unused to running in a group as she almost always lead from the front. As she faded, the nation's hopes faded with her, despite Wendy Sly pushing for a silver medal. All the focus was and always had been on Budd. The crowd Booed!
Initially disqualified for the collision, Zola was reinstated on appeal but her 7th place was hardly what everyone was hoping for. Shamefully, Wendy Sly finishing 2nd, didn't appear to be the solid silver lining it should have been. Budd sought Mary Decker out after the race to check in on her and apologise. Decker was in no mood;
was her 'winsome' retort to the teenager.
Budd and Decker went on to have excellent careers, Decker winning titles, Budd 'settling' for world records. But Zola never really reached the heights we expected of her and she was never able to beat Decker in a competitive race. Within 4 years she had returned to her native South Africa and competed for her recently freed nation in the 1992 Barcelona Olympics but failed to qualify for the final. Decker didn't qualify for the 1992 Olympics but aged 37 she surprisingly rolled back the years to qualify for the 1996 Atlanta Olympics. At the time Mary was being coached by Alberto Salazar, unfortunately she failed a drugs test for a 'testosterone to epitestosterone (T/E) ratio greater than the allowable maximum of six to one' and was banned by the IAAF. 
Just a thought to leave you with on the incident.
If I'm driving down the street and you happen to drive into the back of me, who's insurance pays out on the damage?
* Budd's life has been filled with tragedy. Her husband had an alleged affair and following their reconciliation he committed suicide years later. Here father was murdered by a farm hand who claimed it was in self-defence.

If you enjoyed this article you might enjoy: