We have a wide range of professional training and development services that will help you grow your business.
Industry leading Sales Director to lead you/your teams
Sales Function/process Optimisation
Sales director on part time basis
Pay only for what you use
We have specialist online training that gives you and your sales team access to hundreds of sales videos, podcasts and learning resources that can be accessed either through our Hub App or through our desktop learning centre.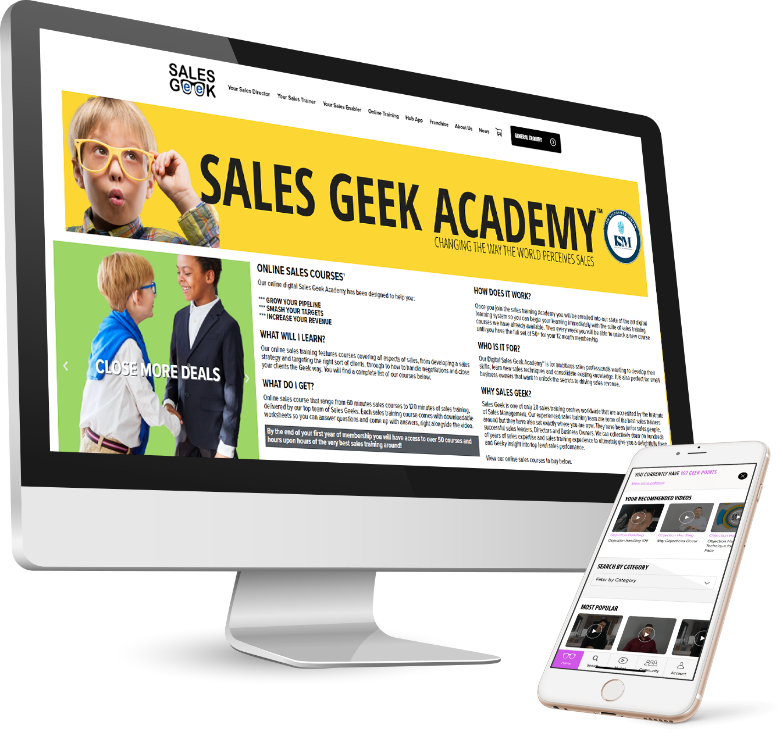 Working with the Geeks on the Your Sales Director package was an easy one. I've known Richard and Jonathan a few years and it has been a real pleasure watching their team grow. Strategy, direction, focus and advice have all come in abundance and the experience within the team is phenomenal. We work very close with Jedi Master James and there's just no way we could employ a team to have that knowledge and expertise on tap!! If you're not working with the Geeks you should seriously consider doing so rather than employing a Sales Director.
Managing Director, Jets GPS Fleet Solutions
Fantastic bunch of amazing people who really want to genuinely help you and your business. They put themselves in your shoes. I'm not a sales person, i'm a techie but when i'm in the Geek Bunker with them I become a sales machine! I wouldn't hesitate in reaching out to them – see for yourself. P.S I got the The Sales Geek Hub app, if you don't know what that is then you're not living in 2020!
Managing Director – Broadband 9
I attended the social selling course with Sales Geek in October 2019. One for my personal development but secondly to see if there was enough value in it for my team to do it. Well I booked my guys on the next session before I left, there was oodles of value. The way the course is delivered and broken down means someone who has very little experience of LinkedIn can participate and come away with so much more confidence as you are working on your on social media brand whilst in the workshop. If you have a wealth of experience on LinkedIn I'd be surprised if you didn't come away with some golden nuggets too. Recruitment has been changing over the last 10 years, and whilst I have a presence on there I wasn't sure if a) I was promoting the business the right way b) I wanted to be highlighting my 20 years' experience and knowledge without coming across as arrogant c) Learn how to add value to our clients and potential new customers Our engagement has increased on LinkedIn our connections are quality connections and we certainly are adding value and being seen as one of the experts in our field. Three words to describe it Fun| Interactive| Enlightening I loved the course so much, my whole sales team went on it and we introduced it to some of our clients and suppliers to. My team are way better than me on there now, I may need to refresher and new tips….let me know when the next one is guys. 5* recommendation thanks guys
Sales Geek have taken the time to understand our business, our sales process, our strengths, our weaknesses and our requirements. A series of bespoke courses have been designed and delivered by both Jonathan and Erik with excellent content, fantastic engagement and exceptional delivery. My team and I have benefited greatly from our partnership and look forward to growing and developing in the coming years.
Sales Director at Praetura
I have been on a couple of training courses at Sales Geek, and was so impressed by the quality and content of the courses, that I signed up for the all new Sales Academy. Two days in and I know I have made an excellent decision for myself and my business. An amazing amount of content delivered in small, manageable chunks, and as always, I left the bunker full of fresh new ideas and ready to get **it done! Anyone thinking of booking a course with Sales Geek needs to stop thinking and get it booked before places fill up!