…choo choo
Sales Geek Welcome Tony Capper & Simon Damp to the delivery team
We are delighted to announce to the world that Tony Capper and Simon Damp are joining us here at the Geek Bunker as we build capacity to offer more businesses across the region 'Your Sales Director' services. Tony and Simon bring with them considerable sales leadership experience and unrivalled track records in helping small and medium sized businesses grow and scale up.
Tony Capper joins the team having previously held sales leadership roles at Access Planit, MSG Global Solutions and Bluefin Solutions. Tony has had a transformative effect in his roles and for his customers, consistently zeroing in on 'winning share-price'. He is ideally placed to bring that Sales Geek magic to any business across the UK.
Simon's experience and track record is unrivalled. As the former Managing Director of 'Gorilla Glue' he grew their sales from £250k to over £40m! He knows how to grow and scale a business and now he is part of the Sales Geek team he can bring his experience to small businesses across the East Lancs region and beyond.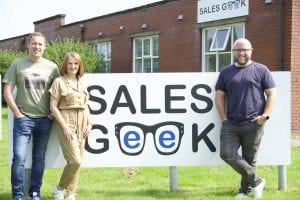 Chief Geek & Founder Richard Few said:
Obviously businesses across the region, across the world, are facing challenging times. At Sales Geek we have pivoted quickly into digital products and services such as our Sales Academy and training app The Sales Geek Hub. Fortunately for us these products were already in development, though we have brought them to market sooner than anticipated so we can continue to support businesses in the new 'on-demand' landscape. However, throughout it all demand for our core products of Your Sales Director and Your Sales Trainer has been as high as ever and we just ran out of capacity to deliver for new clients in whatever medium most suited them.
Having Simon and Tony onboard increases our capacity, so my message to small and medium sized businesses across our region and the UK is:
"It's time to get your Geek on!"
Get in touch with us today to see how we can help your business grow like ours.
We'd love it if you could share the love with Simon and Tony on their Linkedin pages.
If you would like to see if Simon or Tony could help your business or to enquire about any other of our products or services then we'd love to hear from you.
01254 300 031
Stay tuned for more exciting Geek news soon!