We have a wide range of professional training and development services that will help you grow your business.
Industry leading Sales Director to lead you/your teams
Sales Function/process Optimisation
Sales director on part time basis
Pay only for what you use
We have specialist online training that gives you and your sales team access to hundreds of sales videos, podcasts and learning resources that can be accessed either through our Hub App or through our desktop learning centre.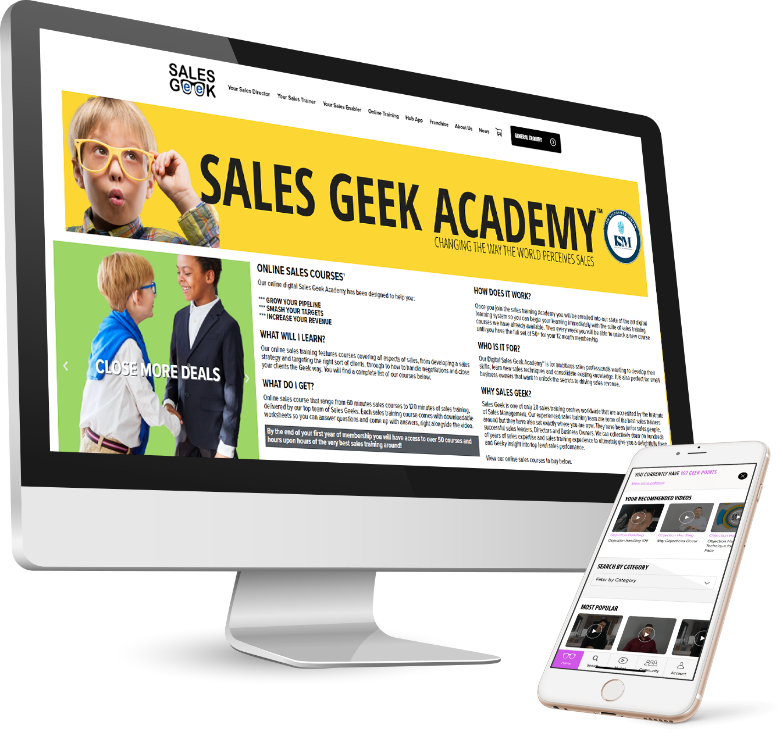 Thanks Sales Geek!! As a fan of continually building our knowledge and developing skills when it came to finding top class training we turned to Sales Geek to fill our needs. We have now used them a number of times for our sales team and have found it to be so worthwhile. It has been extremely useful that Sales Geek have such a diverse background in sales as this has added a greater depth to our sales force and challenged the way we work. The upside of this is it has helped us build a great culture in the business and our turnover is up around 12% this year!
Orluna Regional Sales Director
Fantastic bunch of amazing people who really want to genuinely help you and your business. They put themselves in your shoes. I'm not a sales person, i'm a techie but when i'm in the Geek Bunker with them I become a sales machine! I wouldn't hesitate in reaching out to them – see for yourself. P.S I got the The Sales Geek Hub app, if you don't know what that is then you're not living in 2020!
Managing Director – Broadband 9
Sales Geek have taken the time to understand our business, our sales process, our strengths, our weaknesses and our requirements. A series of bespoke courses have been designed and delivered by both Jonathan and Erik with excellent content, fantastic engagement and exceptional delivery. My team and I have benefited greatly from our partnership and look forward to growing and developing in the coming years.
Sales Director at Praetura
Working with the Geeks on the Your Sales Director package was an easy one. I've known Richard and Jonathan a few years and it has been a real pleasure watching their team grow. Strategy, direction, focus and advice have all come in abundance and the experience within the team is phenomenal. We work very close with Jedi Master James and there's just no way we could employ a team to have that knowledge and expertise on tap!! If you're not working with the Geeks you should seriously consider doing so rather than employing a Sales Director.
Managing Director, Jets GPS Fleet Solutions
I have been on a couple of training courses at Sales Geek, and was so impressed by the quality and content of the courses, that I signed up for the all new Sales Academy. Two days in and I know I have made an excellent decision for myself and my business. An amazing amount of content delivered in small, manageable chunks, and as always, I left the bunker full of fresh new ideas and ready to get **it done! Anyone thinking of booking a course with Sales Geek needs to stop thinking and get it booked before places fill up!